Hockey should not be played in warm weather, but do not tell that to Tampa residents. The Ice Palace has been the home of the Tampa Bay Lightning since 1996. The St. Pete Times Forum hosts 19,204 rabid hockey fans on a regular basis.
This 670,000 square feet forum dominates the Channelside district of downtown Tampa Bay, FL. Fans will most likely be driving to the forum. The forum management suggests you follow these directions to avoid traffic and construction delays.
"Take Gandy Boulevard north. Proceed over the Gandy Bridge to the ramp of the Selmon Expressway (Toll/Tampa/Brandon). Merge onto the eastbound Selmon Expressway (toll road). Proceed east on the Selmon Expressway to exit 6A/6B."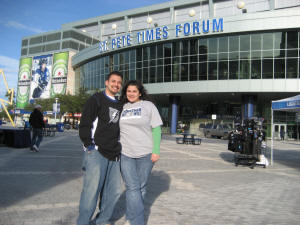 There are three primary secure parking areas within easy walking distance of the Ice Palace.
The South Regional Garage is located off Florida Avenue.
Parking Area A is located south of Selman Avenue on Nebraska Avenue.
Parking Area B is located north of Selman Avenue on Morgan Street.
The Ice Palace was once a poorly lit and dismal place, but when new management took over in 1999, they thoroughly renovated and updated the facility, but the fan experience begins outside the main venue. A large plaza replete with games, live music, and vendors greets fans as they walk up to the forum. It is organized tailgating at its best. This is a perfect place to meet up with friends or just kill some time before going into the venue.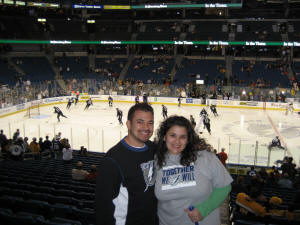 Once it is time to go inside, fans walk straight up the stairs and into the main concourse. The St. Pete's Times Forum lacks a grand entranceway. Those seated in the bowl section are assured a good view of the ice and the four large Jumbotrons certainly help. The club level is where St. Pete's really shines. It features a clean, carpeted concourse and two upscale dining establishments. Medallions is a casual fine dining establishment, and Icons offers an extensive buffet.
The XO Club is one level above normal club seating. The concourse has a hardwood floor! Aquariums line the suites, and food and drinks are included in the price of the ticket. It is a country club that just so happens to be located in a hockey arena.
Food in the common area of the arena is typical forum fare. Outback Steakhouse has several booths throughout the stadium. Fans from out of town must try the Cuban sandwich, a Tampa specialty.
The St. Pete Times Forum is located in the heart of Tampa there is a wide variety of dining establishments and bars near the arena. There are even a few directly across the street. Tampa's Ybor City is where many hockey fans choose to start and end their evenings. Ybor City is the epicenter of Tampa's restaurant and nightlife scene. There are many restaurants, sports bars and nightclubs all within a few square blocks.
The city of Tampa provides tram service from Ybor City to the St. Pete Time's Forum. Many fans choose to take advantage of this service by grabbing a bite to eat in Ybor City, taking the tram to the game, and coming back to Ybor City to take advantage of the nightlife.
Fans that plan to spend several days in Tampa Bay should make sure they take in some of the many sights and attractions the city has to offer.
Clearwater Beach
Every trip to Florida has to include a trip to the beach. Clearwater Beach is Tampa Bay's most popular beach. Fans traveling from colder climes will enjoy being able to shed their winter clothes and get a little sun.
The First Hooter's
Most sports fans have been inside a Hooter's, but not many can say they have been to the original Hooter's. Located in Channelside this famous wingspot is near the Forum. Fans can stuff their faces while taking in the unique scenery only Hooter's has to offer.
Ybor City
Ybor is more than just a nightspot or a place to grab something to eat before catching a Tampa Bay Lightning game. It is Tampa's Latin-Italian quarter. Filled with the unique sights and sounds that are unique to the Latin, Caribbean, and Italian cultures, Ybor is a great place to spend the day. Fans should make sure to pick up a hand-rolled cigar for a post-game celebration. Ybor City was built on cigars.
Tampa Bay, FL is a great place to take in a game. The Lightning might be struggling right now, but their facility is top-notch. Add in the many attractions of Tampa Bay and fans cannot help but have a wonderful experience.
For more information on the City of Tampa, Florida check out my other review by clicking on the link below:
NHL: February 11, 2010 - Boston Bruins vs. Tampa Bay Lightning
Top Tourist Attractions:
Gulf Boulevard, Yuengling Brewery Tour
Clearwater Beach, The Original Hooters Restautant
Local Foods:
Stone Crab, The Cuban Sandwich, Paella
Grouper (fixed every which way)
What They're Drinkin':
Light Beer, everyone drinks light beer ...
Fan Resources:
Pocket Map of Tampa
Arena Policy
Arena Parking Map
Local Sports Media:
The Tampa Tribune
St. Petersburg Times
620 WDAE The Sports Animal
Popular Bar Districts:
Ybor City
(Gaspar's Grotto, Green Iguana, Honey Pot,
Cuban Club)
Shepard's in Clearwater
Best Restaurants:
Ybor City (Columbia Restaurant, Tampa Bay Brewing Co.,
Samurai Blue)
Channelside District (Garage Bar & Grill, Oishi Sushi, Stumps
Supper Club)
The Hut Bar and Grill
Hot Tuna
Where To Stay:
Definitely plan on staying downtown or at one of the beaches in the Tampa-Clearwater-St. Petersburg area. There's lots of nightlife and lots of things to do in this tourist trap. I would stay at the Hyatt Downtown, The Westin, or the The Waterside Marriott. Be sure to make your way down to Ybor City for a Bourbon Street-type atmosphere on the weekends.
Planning Your Next Trip to see the Tampa Bay Lightning at St. Pete Times Forum?
I've set up this website to help others that are interested in NHL Travel. Below you'll find links for cheap Tampa Bay Lightning tickets, arena seating charts, local weather, restaurants and hotels ... everything you need to plan a successful trip to St. Pete Times Forum.
Compare Prices for
Tampa Bay Lightning Hockey
Tickets Here:

Click on the following links for Tampa Bay Lightning ticket availability at each of the top online ticket brokers on the web. Try each link to find the cheapest NHL ticket prices:

Tampa Bay Lightning Game Schedule
TicketCity.com
StubHub.com
TicketNetwork.com
RazorGator.com
Vivid Seats.com