Thereís something that just seems unnatural about watching professional ice hockey in a warm weather city like Tampa, Florida. But as the NHL looks to expand, and Iím all for expansion, these warm weather cities are a natural fit to help increase the footprint of a game with a strong northern presence. I was in south Florida on the heels of my trip to Super Bowl XLIV in Miami and couldnít pass up the opportunity to watch the Tampa Bay Lightning as they played host to the Boston Bruins at St. Pete Times Forum in downtown Tampa.

The home of the Tampa Bay Lightning, St. Pete Times Forum, is situated it a great little stretch of the downtown area. Parking lots around the area ranged in price from $5-$15 and it appeared as though finding parking is typically not going to be an issue. The area around the arena has several bars and taverns that are worth checking out. Across the street is a spot called Hot Tuna, formerly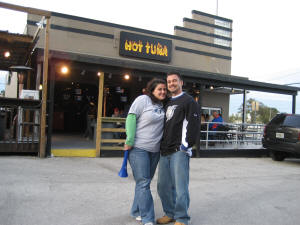 Andreychuckís, thatís a great place to grab a burger and your favorite ice cold beverage of choice. On gameday, they had some exceptional $8 angus burgers with great atmosphere and lots of local patrons. The Hut Bar and Grill is another great spot to check out along with Hattrickís over on Franklin Street. With plenty of options for pregame libations and snacks, St. Pete Times Forum is ideally located for fans to grab a bite to eat before heading in.

Arriving at the St. Pete Times Forum early, my wife Crystal and I found the the Tampa Bay Lightning had an exceptional pregame tailgate with things for the whole family to do. Local radio stations are on hand with giveaways and contests, as Tampa Bay Lightning staffers sold merchandise and souvenirs. I couldnít pass up grabbing one of their rally horns, which I knew would come in handy during the game.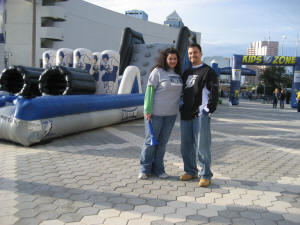 For the Kids, the Lightning have setup an incredible Kids Zone right outside the arena with an inflatable slap-shot challenge, a blow-up obstacle course, and gladiator style jousting featuring padded pugil sticks. For more seasoned fan, there was plenty of outdoor barspace with mixed drinks and drat beer. Thereís also Shots and Channelside, a bar and grill located inside St. Pete Times Forum with an entrance that opens into the plaza where all the pregame festivities take place. Finally, depending on the day of your game, the Lightning have an outdoor stage set up with live music leading up to gametime. The team sponsored tailgate wa actually quite impressive.

As I walked the plaza, beer in hand, shuttling from one activity to the next I was approached by one of the Tampa Bay Lightning staffers. He was looking for a volunteer to take the shot from center ice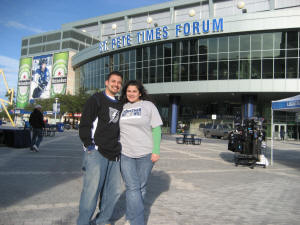 during the second intermission for their main prize giveaway of the night. I immediately agreed to help him out. I mean, I guess you could say Iím just that type of guy. So with plans set for the second intermission, we headed into the arena to find our seats.

As we entered the arena, I noticed there were some interesting additions to the menu at the local concessions stands. Along with Zweigles hotdogs and sausages, Lightning fans had their choice of several varieties of empanadas, including beef and cheese, Italian sausage and cheese, crabmeat, even guava empanadas. In addition, their Authentic Cuban sandwich was also very good. The hispanic influence on the concessions menu was certainly refreshing to see and I took to opportunity to sample several items.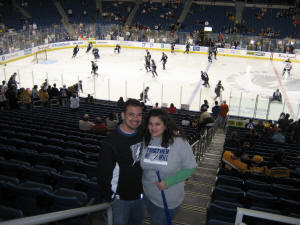 As the game started, I was surprised by the number of empty seats as I scanned the arena. With the Boston Bruins in town, I expected a lot of transplants wearing black and gold, but I was unprepared for the lack of a home team presence at St. Pete Times Forum. Things got even worse when the visiting Bruins raced ahead to a 4-0 lead in the first period, as Bolts goalie Antero Niittymaki was peppered with shots in the first period before finally getting pulled. During the second period, Boston scored again making it 5-0 until finally the Lightning came to life with two goals by Martin St. Louis to close out the second.

As the second intermission approached, I readied myself for the shot from center ice. I had heard about visualization training exercises where you imagine watching everything play out in advance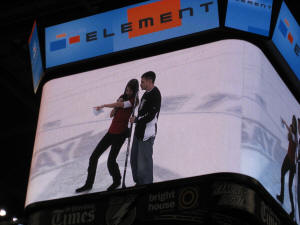 with the puck sliding effortlessly through the small hole in the board covering the net. I did those. Waiting backstage in the ready room, I put on some steel spiked footwear for walking on the ice and continued to visualize the puck and my intended target.

Before setting foot on the ice, I wisely negotiated a backup prize (Iím no dummy, there was no way I was going to hit that little target, and I certainly didn't want to walk away empty handed). First prize was one yearís paid rent in a luxury condominium downtown, but with me being from Detroit, I got the Tamp Bay Lightning prize staff to agree to give me an autographed stick, win or lose. So with the pressure off, I walked out to center ice, backed up the puck from the line, and pushed it along the ice for a few feet before releasing it at the net. It went wide right Ö it almost seemed fitting for a die hard Bills fan from western New York.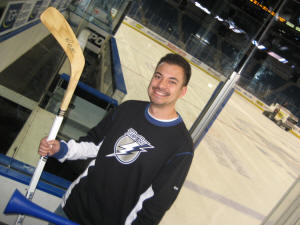 During the third period the Lightning seemed to come alive. Hot off the second period goals from Martin St. Louis (it turned out that I received an autographed Martin St. Louis stick as my prize) the Lightning attack on Bruins goalie Tuukka Rask resulted in two third period goals by Steve Downie closing the gap to 5-4. During the last several minutes of play the Bolts offense generated several great scoring chances, but they were unable to force overtime. The Bruins came away with a win and my Tampa Bay Lightning experience ended in another home team loss. All in all it was a great evening, Crystal and I retired to one of the local watering holes for a couple more beers and then we headed home.


For more information on the City of Tampa, Florida check out my other review by clicking on the link below:

NHL: Tampa Bay Lightning, St. Pete Times Forum - General Information
Top Tourist Attractions:
Gulf Boulevard, Yuengling Brewery Tour
Clearwater Beach, The Original Hooters Restautant
Local Foods:
Stone Crab, The Cuban Sandwich, Paella
Grouper (fixed every which way)
What They're Drinkin':
Light Beer, everyone drinks light beer ...
Fan Resources:
Pocket Map of Tampa
Arena Policy
Arena Parking Map
Local Sports Media:
The Tampa Tribune
St. Petersburg Times
620 WDAE The Sports Animal
Popular Bar Districts:
Ybor City
(Gaspar's Grotto, Green Iguana, Honey Pot,
Cuban Club)
Shepard's in Clearwater
Best Restaurants:
Ybor City (Columbia Restaurant, Tampa Bay Brewing Co.,
Samurai Blue)
Channelside District (Garage Bar & Grill, Oishi Sushi, Stumps
Supper Club)
The Hut Bar and Grill
Hot Tuna
Where To Stay:
Definitely plan on staying downtown or at one of the beaches in the Tampa-Clearwater-St. Petersburg area. There's lots of nightlife and lots of things to do in this tourist trap. I would stay at the Hyatt Downtown, The Westin, or the The Waterside Marriott. Be sure to make your way down to Ybor City for a Bourbon Street-type atmosphere on the weekends.
Planning Your Next Trip to see the Tampa Bay Lightning at St. Pete Times Forum?
I've set up this website to help others that are interested in NHL Travel. Below you'll find links for cheap Tampa Bay Lightning tickets, arena seating charts, local weather, restaurants and hotels ... everything you need to plan a successful trip to St. Pete Times Forum.
Compare Prices for
Tampa Bay Lightning Hockey
Tickets Here:

Click on the following links for Tampa Bay Lightning ticket availability at each of the top online ticket brokers on the web. Try each link to find the cheapest NHL ticket prices:

Tampa Bay Lightning Game Schedule
TicketCity.com
StubHub.com
TicketNetwork.com
RazorGator.com
Vivid Seats.com