Opened: February 11, 1968
Capacity: 18,200 seats
Mascot:
Team Chant:
Draft Beer:
Hot Dog:


Arena Parking: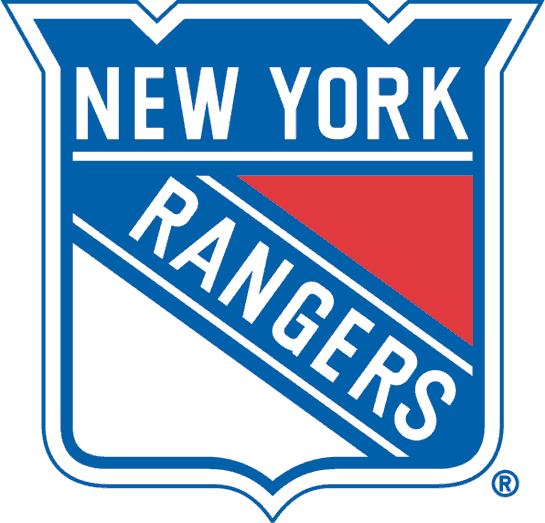 Madison Square Garden
Arena Address

Four Pennsylvania Plaza
(7th Ave between W 31st St & W 33rd St)
New York, NY 10001
212-465-6741
Get Directions
As one of the most renowned arenas in the world, Madison Square Garden serves as a testament to the athletic greatness that has stepped through its hallowed halls at one time or another. Currently, it serves as the home to the NHL's New York Rangers, a team that is getting itself back into contention in the Eastern Conference through savvy front office moves and great player development.
If you would like to see these great players in action, the Garden is easily accessible by a number of different means. You would be well advised to think of other modes of transportation besides your own personal vehicle because it gets very congested in this part of New York, especially when there is an event going on at Madison Square Garden. There are plenty of other ways, however, for you to see a New York Rangers game. The New York City Transit subway is probably going to be the most convenient for a wide majority of Rangers fans. They have plenty of different stop points that allow you to get to the Garden quickly and easily. There are also many different train lines that will take you right to Penn Station below Madison Square Garden. There are even bus routes that will take you directly to the Garden if that is your preferred mode of transportation.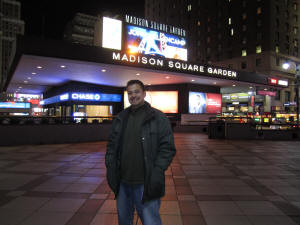 Once you have made it inside the building, you will find many different concourses that you are able to explore. Whereas most arenas limit themselves to one or two concourses, Madison Square Garden makes it very easy to maneuver to your seat or to a local concession stand so you can order your favorite items. Speaking of concession stands, two food courts are located within the building, which makes it very easy to find the centralized location nearest to where you are seated. Here you will find some of the best "ballpark" fare you could ever bite into while enjoying any action that you might be missing on one of the many HD televisions located throughout the concourse areas. When you get to your seat, take in the majesty that is the Garden's atmosphere. With championship banners, retired numbers, and one of the biggest HD scoreboards in the world, Madison Square Garden makes it very enjoyable to be a fan of the New York Rangers.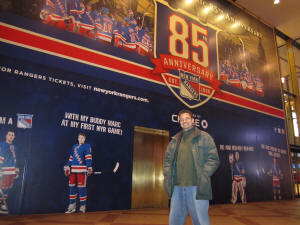 Interested in more of a traditional, sit-down type of meal? The Club Bar & Grill located inside the Garden provides the finest American cuisine and daily drink specials that are sure to put you in the mood for some great hockey action. The Club fills up quickly, though, so making reservations a couple of days ahead of time is advised if you plan on eating at this wonderful restaurant. There are also many local options located within the vicinity of the arena that can provide you with many different styles of food. Harrington's, located on West 7th Avenue, is more of the typical bar atmosphere that makes old-fashioned bar food and many different beers from around the world available to patrons. As this is an Irish pub, you know that the atmosphere will be lively and exciting. You can also look into what Nick and Stef's Steakhouse can offer you in terms of a nice dinner in midtown Manhattan. With the finest cuts of beef you can find and a large list of available drinks, this steakhouse is certainly one that you don't want to miss.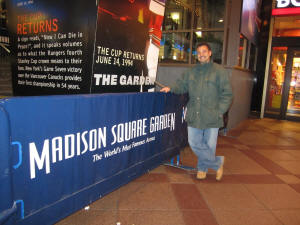 Of course, no trip to New York City would be complete without a trip to the 40/40 Club. This hotspot, located right on W. 23rd Ave., is the perfect place to socialize with local New Yorkers while listening to your favorite music. With nightly drink specials and a live DJ spinning tunes throughout the night, the 40/40 Club provides an experience unlike any other night club that you have visited. On 52nd St., Touch is another nightspot that cannot be missed. Touch provides a laid back atmosphere with awesome ambiance that provides an enjoyable experience for anyone looking to have a good time in New York City. Be sure not to miss out on what these locations can provide for you after a night of cheering the New York Rangers to victory.
New York City has no shortage of points of interest that you will want to look into visiting. The Empire State Building stands as a testament to innovativeness and ingenuity. Standing at more than a quarter-mile tall, the Empire State Building can make any trip to New York City well worth the expense. Make sure that you also don't miss the world famous Times Square. Home to many different shops and studios, Times Square provides you with a perfect insight into New York City culture. Madison Square Garden is only a short trip away from both of these locales, so you don't have to worry about possibly being late to your Rangers game.
New York City does not lack in the "things to do" department. One of the best ways to spend an evening in this metropolis is by taking a trip to midtown Manhattan to Madison Square Garden. It is here that you will find some of the best hockey in the National Hockey League being played in the form of the New York Rangers organization. The pageantry and spectacle of the Garden is something that can't be matched anywhere else in the world, and the fact that the Rangers call this arena home is just an added bonus on your journey to the world famous Madison Square Garden.
Top Tourist Attractions:
Empire State Building, Broadway, Time Square
Statue of Liberty, Ellis Island
Ground Zero Memorial, Central Park
Little Italy / Chinatown
Top of the Rock - Rockerfeller Center
Yankee Stadium
Coney Island - Amusements
Circle Line 45St & West Side (boat tour 3 hours around Manhattan Island)

Local Foods:
New York Style Pizza
Nathans Hot Dogs - Coney Island

What They're Drinkin':
Captain's Reserve Imperial IPA, Brooklyn Intensified Coffee Stout, Miller Lite, Bud Lite

Fan Resources:
Pocket Map of New York
New York City Transit System Map
NJ Transit System Map
Arena Policy
Arena Parking Map
Fan Forum:

Local Sports Media:
New York Post, New York Times, New York Daily News
660 WFAN
1050AM - ESPN Radio
Popular Bar Districts:
Manhattan - 2nd Avenue 57 Street to 42nd Street (Sutton
Place, Turtle Bay, Calico Jacks, McFadden's)
Greenwich Village - Bleeker St. (McSorley's Old Ale House-est.
1854, Down the Hatch, White Horse Tavern)
Brooklyn (Radegast Hall & Beer Garden, Spuyten Duyvil, Park
Slope Ale House, Beer Table, The Gate)
SoHo - McDougal Street Hoboken, NJ (Black Bear, Green Rock,
Whiskey Bar, Texas Arizona)

Best Restaurants:
Manhattan's Restaurant Row (located at 46th Street between
8th and 9th) Little Italy ( ... ) Babbo (fine Italian dining) Gramercy Tavern (fine dining) Bouley (fine French cuisine) Union Square Cafe (new American cuisine)
Oyster Bar (seafood)
Tao - 57 St & Madison Ave (Asian)
Harry's Burrito - 71 St & Columbus Ave (Mexican)
Vincent's Little Italy - Hester St & Mulberry St (Italian)
John's Italian Restuarant 12 St between 2nd and 1st Ave Ferrara's - Grand Street & Mulberry Little Italy (Pastry)
Woo Hop & Hop Key - Chinatown Mott St & Pell St (Chinese) Peter Lugers Steakhouse - Brooklyn NY
Planning Your Next Trip to see the New York Rangers at Madison Square Garden?
I've set up this website to help others that are interested in NHL Travel. Below you'll find links for cheap New York Rangers tickets, arena seating charts, local weather, restaurants and hotels ... everything you need to plan a successful trip to Madison Square Garden.
Compare Prices for
New York Rangers Hockey
Tickets Here:

Click on the following links for New York Rangers ticket availability at each of the top online ticket brokers on the web. Try each link to find the cheapest NHL ticket prices:

New York Rangers Game Schedule
TicketCity.com
StubHub.com
TicketNetwork.com
RazorGator.com
VividSeats.com