The Frozen Pond Pilgrimage was born out of previous journeys taken on by Hans through the National Football League and the National Basketball Association. With this particular site, he looks to explore the individual cities that claim NHL teams to put the spectacle that is professional hockey on display. Through his journeys to some of the biggest cities in the United States and Canada, Hans will provide you with an in-depth view of what makes each city unique while concentrating on other aspects that makes each one of these hockey towns such an intriguing place to visit.
What you will find along this expedition is that the thirty teams in the National Hockey League offer thirty different experiences for visitors to take part in. Inside each detailed report, you can see exactly what sets one particular arena and city apart from other cities around the league. From the gameday experience to restaurants in the neighborhood, each city has a flavor all its own. Hans provides you an inside look at what season ticket holders and casual fans expect on a nightly basis when they go to watch their hometown NHL team.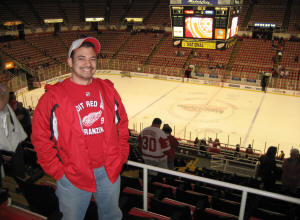 Have you ever wondered what it is like step inside Joe Louis Arena in Detroit, Michigan? What is inside that makes it such a special place? Is the reason that the Red Wings are so successful year after year buried within the walls of the building? These are the kinds of questions that are readily answered with each individual, unbiased review. Be prepared to take a journey to the city of Toronto to see why it is considered one of the top hockey towns in the entire world. You will also be able to get an inside look at some more obscure hockey cities in the United States that still provide fans with unmatched intrigue and excitement.
If you have ever thought about taking your own journey throughout the National Hockey League, Hans provides an excellent blueprint into how you should go about setting up your travel plans. Wondering how to get to the arena? Each report features detailed information about parking located around the building as well as public transportation options that are available to those who aren't able to drive themselves to the arena. You will get a feel for the general vicinity surrounding your favorite NHL location, which will help prepare you when gameday rolls around.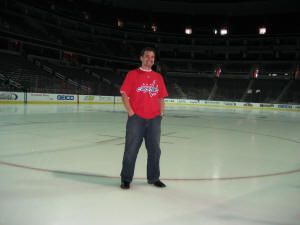 If you are setting up your own Frozen Pond Pilgrimage, you will need tickets to see a game of your choice. It is so important nowadays to make sure that you are getting actual game tickets. Counterfeit tickets have become a new way for unscrupulous ticket sellers to scam the public out of their money. For this reason, Hans has partnered up with some of the most reputable ticket brokers that you can find online. You have the opportunity to find the cheapest NHL tickets available while being assured that what you are buying is authentic and legitimate. Planning your trip out ahead of time is almost as important as what you do when the journey begins. You want to make sure you set aside enough time to visit all of the places that intrigue you while still staying within a predetermined budget. This website provides the insight and advice that you need in order to make your trip to a unfamiliar city one that you will not forget. From the ticket buying stage of the process all the way until your trip has ended, the Frozen Pond Pilgrimage can be your one-stop shop for everything that is involved with visiting National Hockey League arenas.