Opened: September 21, 1995
Capacity: 18,860 seats
Mascot:
Team Chant:
Draft Beer:
Hot Dog:


Arena Parking:
Rogers Arena
Address

800 Griffiths Way
Vancouver, British Columbia V6B 6G1
000-000-0000
Get Directions
The Vancouver Canucks call the Rogers Arena home. Opened in 1995, Rogers Arena encompasses over 475,000 square feet. For hockey events, the Rogers Arena is configured to seat 18,810 with 2,195 of those seats being on the club level. Since its opening, the Rogers Arena has seen over 17 million fans walk through its doors.
The stadium is located just off Pacific Boulevard in downtown Vancouver, BC. For those who choose to drive, there are over 7,000 parking spots within a quick 15-minute walk of the arena. There is also a stadium-specific underground parking lot located just off Griffiths Way. Most fans choose to take advantage of the conveniently located Skytrain Stations when getting to and from the game. The Stadium/Chinatown station lets out just adjacent to Rogers Arena. If you're going to see the Vancouver Canucks, be sure to pay tribute to former Canucks head coach Roger Neilson, by getting some custom Towel Power
rally towels
silkscreen printed.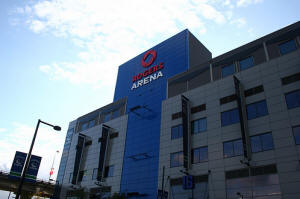 The arena itself is located in a bowl. It is below street level. Most fans choose to take advantage of the two bridges and enter the arena on the 300 level. There are two primary concourses, the 300 level, and the 100 level. One notable feature of both concourses is the amount of glass used in the construction of the arena. Fans are treated to a great view of the city of Vancouver.
The interior of Rogers Arena is well designed, but there are a few problems. The concourses are tight, and the crowd can become congested in certain choke points such as the stairwells. There is no way to walk all the way around the 100-level concourse. It is interrupted by the club concourse.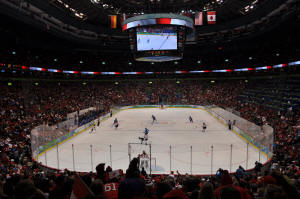 Rogers Arena is built around hockey. This is no surprise given the country in which is resides. The seats are arranged at the perfect angle to see the ice. Lines of sight from all seats are good, and the four Jumbotrons and assorted other visual media help fans to follow the action on the ice and around the league.
Inside food options are limited to standard stadium fare, but an in-house microbrewery offers fans a chance partake of some tasty brews. At
Rickardís
, fans can get a feel for the brewing process and see their beer being made. The club level dining experience is nothing about which to write home.
There are two sit down restaurants within Rogers Arena. The Captain's Room is a club level fine dining establishment that opens two hours prior to the puck hitting the ice. The Wiser Center Ice Grill offers fans the opportunity to watch the Vancouver Canucks while they eat. Tables have an excellent view of the ice.
Fans will most likely want to eat before the game. Most knowledgeable fans choose to take a short walk down to Robson Square. There is a large selection of restaurants from which to choose. Chambar, Cafť Medina, and Dix BBQ & Brewery are some of the more popular pregame spots, but as with all things, some of the best places to eat and have a drink are found by following the crowds and the aroma of food being prepared.
After the game, it is easy to walk right back to Robson Square and see how the area transforms after dark. There are many clubs, bars, and late-night eateries from which to choose. It is difficult to single only a few out. Depending on a fans particular taste in music and atmosphere, they will be able to find a great place to celebrate their teamís victory.
As with most major-metropolitan cities, there is plenty to do in and around Vancouver outside of catching a Canucks game.
The Metropolis and Metrotown
This is British Columbiaís largest shopping mall. It features over 450 shops, great restaurants, and a theater. It is open 7 days a week until 9 pm.
Mountains or Ocean?
The NHL season is long and a trip to see the Vancouver Canucks might take place during the dead of winter or the early summer. There are three great ski resorts within thirty minutes of downtown. If the weather is nice and warm, Vancouver offers several great beaches to catch some sun. The particularly adventurous or comfortable could head to Wreck Beach. Wreck Beach is Canada's one and only nude beach.
Yaletown
Located on Vancouver's beautiful waterfront, Yaletown is home to a line of bars that covers the entire range of drinking establishments. From traditional London Pubs to Cyberfriendly Dance Clubs, it can be found in Yaletown.
The Roxy
Hockey fans that love live music have to head to the Roxy. Located off Granville Street, this famous Vancouver nightspot features live music every night of the week. Lines are long, so fans should make sure to arrive early.
Vancouver is a hockey town and their fans are some of the most knowledgeable and enthusiastic in the world. Their enthusiasm is infectious. Even the most jaded of fans will enjoy his experience watching the Canucks take the ice.
Top Tourist Attractions:


Local Foods:


What They're Drinkin':


Fan Resources:
Pocket Map of Vancouver
Arena Policy
Arena Parking Map

Local Sports Media:

Popular Bar Districts:
The Roxy
- unparalleled experience
Best Restaurants:
Where to Stay:
Planning Your Next Trip to see the Vancouver Canucks at Rogers Arena?
I've set up this website to help others that are interested in NHL Travel. Below you'll find links for cheap Vancouver Canucks tickets, arena seating charts, local weather, restaurants and hotels ... everything you need to plan a successful trip to Rogers Arena.
Compare Prices for
Vancouver Canucks Hockey
Tickets Here:

Click on the following links for Vancouver Canucks ticket availability at each of the top online ticket brokers on the web. Try each link to find the cheapest NHL ticket prices:

Vancouver Canucks Game Schedule
TicketCity.com
StubHub.com
TicketNetwork.com
RazorGator.com
VividSeats.com