Opened: December 12, 1979
Capacity: 20,058 seats
Mascot:
Team Chant:
Draft Beer:
Hot Dog:


Arena Parking: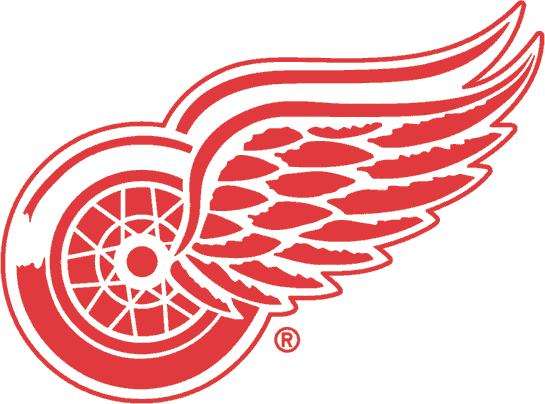 Joe Louis
Arena Address

600 Civic Center Drive
Detroit, MI 48226
000-000-0000
Get Directions
It is difficult for any fan of the National Hockey League to argue against Joe Louis Arena being one of the most hallowed hockey grounds in the entire league. "The Joe" has come to be known as the epicenter for hockey in recent years, as it not only houses the Detroit Red Wings home but also opens its doors for collegiate hockey as well. Bordering on the Detroit River and surrounded by expressways, Joe Louis Arena is right in the heart of downtown Detroit, Michigan.
Getting to Joe Louis Arena is not difficult at all, as signs on the highway are very useful when trying to find the building. I-75 is the main artery that takes you to see the exciting Detroit Red Wings play, and you need only to hop on US-10 at the last minute in order to arrive safely at Joe Louis Arena. Parking is usually about $10, and you can usually find an open lot within several hundred feet of the front doors to the building. The Smart Bus has many different locations where it can pick up and drop off fans around the general vicinity of the arena. Lines are running at all times throughout the day, and an extra cadre of buses runs in the area surrounding the arena on game nights.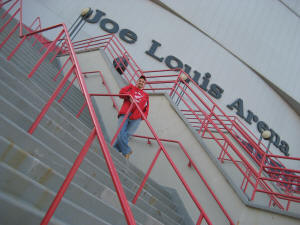 Compared to other buildings around the NHL, Joe Louis Arena doesn't share the same flash and pizazz as many facilities, but they certainly make up for it in pure atmosphere from the crowd noise to the on-ice festivities between periods. There is an 18' Sony Jumbotron scoreboard that hangs above the ice so you can watch replays and keep up with out-of-town scores during the game. You also have the privilege of sitting next to some of the most intelligent hockey fans that you will ever meet. Everyone around you understands the game and appreciates the nuances that make the sport special.
Joe Louis Arena doesn't have any casual dining restaurants within the confines of the building, so you will have to rely on one of the many concession stands that are located throughout the facility. You don't have to worry, however, about running low on choices. There is pizza, subs, BBQ, and hot dogs located throughout the concourse, and you will be able to enjoy the hockey artwork that adorns the concourse while you enjoy your tasty meal.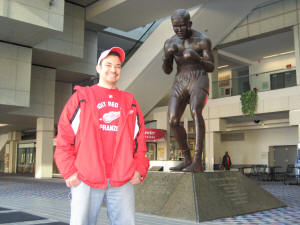 There are many restaurants to pick from in downtown Detroit, but one special location that you absolutely cannot miss is Cheli's Chili. Located right across the street from Comerica Park, Cheli's Chili is named after owner and hockey Hall of Famer Chris Chelios. With a wide selection of menu items to choose from and a genuine sports bar feel, there is no better place to enjoy a meal with your family and friends then at Cheli's Chili. If you are looking for a more relaxed setting, try Signature Bar & Grille. This steakhouse located on Riverfront Drive in the heart of Metro Detroit is the perfect setting for one of the finest entrées that you will be able to find anywhere. With multiple gourmet chefs cooking up these delightful dishes, you will enjoy a wonderful meal and great atmosphere at Signature Bar & Grille.
If you are into rock music, visit I-Rock Nightclub after the Red Wings game at Joe Louis Arena. For over 21 years, I-Rock has hosted some of the biggest names in rock-n-roll, and it still is one of the premiere hotspots in the Detroit area. Be prepared to have a great time in an upbeat setting that will keep you entertained well into the wee morning hours. Centaur Bar is more of a laid back experience when compared to I-Rock. Here, you will find great drink specials while being able to socialize with Detroit's best and brightest. Centaur Bar is located right behind the famous Fox Theater, so make sure that you are able to visit this nightclub before you leave the city of Detroit.
There are so many great points-of-interest in Detroit that you won't know where to start when putting together your itinerary prior to the Red Wings game. As Detroit is the Motor Capital of the World, there is a great attraction that you will surely want to see before you depart this metropolis. The Henry Ford Museum and Greenfield Village is a terrific opportunity to see some great automobile history. You can also view some of the beautiful homes that were erected during Henry Ford's era. Another point-of-interest that you won't want to miss out on is the Detroit Zoo. Home to 3,000 animals, the Detroit Zoo offers some of the most outstanding natural wonders of the world.
Just like the blue-collar workers that populate the city, the Detroit Red Wings go to work every night trying to win a Stanley Cup Championship and be the team to beat in the National Hockey League. Joe Louis Arena serves as the proving ground for the 29 other teams in the league that want to unseat the Red Wings as the premier franchise in professional hockey. On your next trip to Detroit, make sure that you stop by Joe Louis Arena to see some of the best hockey anywhere in the world.


For more information on the City of Detroit, Michigan, check out my other reviews by clicking on the links below:
NHL: April 9, 2009 - Nashville Predators vs. Detroit Red Wings
NBA: Detroit Pistons, Palace of Auburn Hills - General Information
NFL: October 11, 2009 - Pittsburgh Steelers vs. Detroit Lions
NFL: October 26, 2008 - Washington Redskins vs. Detroit Lions
NFL: October 15, 2006 - Buffalo Bills vs. Detroit Lions
Top Tourist Attractions:
Henry Ford Museum / Greenfield Village
Motown Records Historical Museum
Local Foods:
National Coney Island Hot Dogs, Michigan Cherry Salad, Middle Eastern Cuisine, Pasties, Mackinac Island Fudge, Sanders Bumpy Cake
What They're Drinkin':
Miller Lite, Bud Lite, Bell's Oberon Ale
Fan Resources:
Pocket Map of Detroit
Arena Policy
Arena Parking Map
Local Sports Media:
Detroit Free Press
Detroit News
97.1FM The Ticket
Popular Bar Districts:
Downtown (Old Shillelagh, Detroit Pub, Town Pump Tavern,
Foran's, Centaur, Cliff Bell's)
Royal Oak (Luna, Royal Oak Brewery, Gusoline Alley, Mr. B's)
Pontiac (Liberty Bar, Green Tavern, Sevin Night Club, Tonic,
Tiki Bobs, JD's Key Club, Mill Street Grill)
Mount Clemens (Emerald, The Bank, Orleans, Your Mother's)

Best Restaurants:
Hockey Town Cafe (Sports Bar & Food)
Bad Brad's BBQ (Best BBQ in the City)
Fishbones (Creole, Cajun)
Pegasus Taverna (Greek)
Bangkok Cuisine (Thai Food)

Where To Stay:
Detroit's downtown area is filled with museums, waterfront, history and an excellent nightlife. Be sure to stay downtown and stay central to the action. I would suggest staying at the Ramada Inn Downtown Detroit or the Crowne Plaza Hotel Pontchartrain Detroit. The Westin Cadillac and the Holiday Inn Express are also both excellent hotel choices.
Planning Your Next Trip to see the Detroit Red Wings at Joe Louis Arena?
I've set up this website to help others that are interested in NHL Travel. Below you'll find links for cheap Detroit Red Wings tickets, arena seating charts, local weather, restaurants and hotels ... everything you need to plan a successful trip to Joe Louis Arena.
Compare Prices for
Detroit Red Wings Hockey
Tickets Here:

Click on the following links for Detroit Red Wings ticket availability at each of the top online ticket brokers on the web. Try each link to find the cheapest NHL ticket prices:

Detroit Red Wings Game Schedule
TicketCity.com
StubHub.com
TicketNetwork.com
RazorGator.com
VividSeats.com