Opened: February 20, 1999
Capacity: 19,300 seats
Mascot:
Team Chant: Go Leafs Go!
Lg Draft Beer: $12.39
Hot Dog: $4.65


Arena Parking: $21.00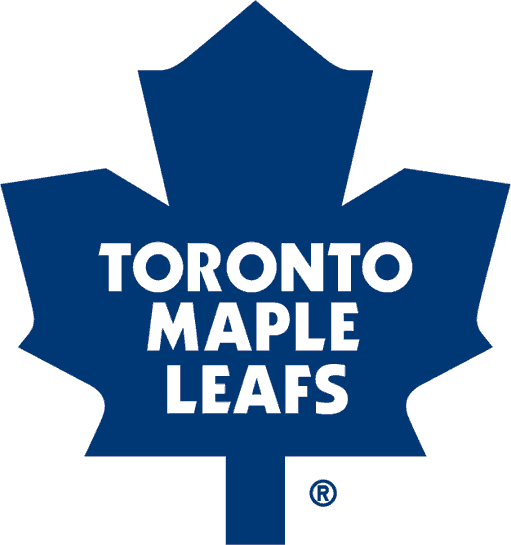 Air Canada Centre
Arena Address

40 Bay Street
Toronto, Ontario M5J 2X2
416-870-8000
Get Directions
Nobody enjoys the sport of hockey more than the passionate fans of Toronto. This Canadian city has become synonymous with excellence in the sport, and the fans expect nothing less than challenging for a Stanley Cup Title every season. Air Canada Centre serves as the home of the Toronto Maple Leafs, and it is one of the best multi-purpose arenas that you will find in any professional sports league.
Located right in the downtown area, Air Canada Centre is easily accessible by vehicle via Highway 401 or Highway 11. If you choose to drive to the building, you will have many different parking options available with various fares. Expect to pay more money to park the closer you are to the arena. Public transportation is probably the easiest way to travel to and from Air Canada Centre, as the TTC Subway system can take you directly to the arena just in time to watch your Maple Leafs players take the ice. Trains can be found all over the city and run in 5-10 increments, so you should have no problem finding one that fits your own personal schedule.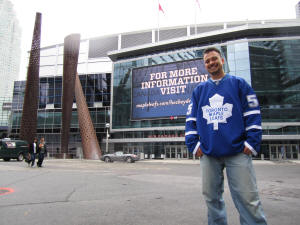 The inside of Air Canada Centre stands as a testament to one of the most storied franchises in the National Hockey League. With thirteen Stanley Cup banners and retired jerseys hanging from the rafters, you immediately feel the tradition that this storied franchise carries with it. Ask the friendly people sitting in the seats next to you, and they will be more than happy to give you a rundown of Maple Leafs history and what makes them such a special franchise. The main attraction of the arena's bowl is the large scoreboard with four giant screens adorning each of the four sides. This provides you with a high definition experience when you're watching video montages or replays.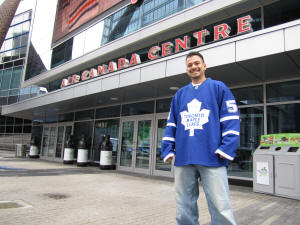 If you're looking for an upscale dining experience before the game, Air Canada Centre has you covered with Air Canada Club Restaurant. Air Canada Club serves you food and drinks from all over the world, and you can enjoy your meal while watching the game take place. There is also the Hot Stove Club, which offers more of a traditional dining experience that separates itself from the normal concession stand fare. Speaking of concession stands, there are plenty of outlets located throughout the arena where you can get your favorite ballpark classics. The concourse is wide open, so you won't have to worry about bumping into people or waiting in long lines to be served.
Want a more casual dining experience outside of Air Canada Centre? Toronto has some of the best restaurants and bars that you will find regardless of location. Allen's is an Irish pub that serves hearty food and great times for all that visit. Located on Danforth Ave. right off of the Don Valley Parkway, Allen's offers the most extensive beer list in the Toronto area and makes it affordable to eat your favorite Irish dish. Another restaurant, located a short walk from the Air Canada Centre, is Wayne Gretzky's Restaurant. It's a great sports bar with excellent food and a great selection of local draft beer. Patrons will also find a full collection of Wayne Gretzky memorabilia beginning with items from The Great One's time in youth hockey all the way through his association with Team Canada during the Olympic Games.
The Toronto Maple Leafs are one of the most exciting teams to watch in the NHL, so it only stands to reason that you will have a great deal of energy left after the game is over. If you're looking for a way to burn that energy off, Toronto offers some fantastic nightclubs and bars that exemplify the social scene in the city. With a state-of-the-art sound system and your favorite drink ready and waiting for you, Embassy Nightclub is the perfect spot for you to enjoy yourself while in Toronto. Embassy offers more than just drinks, however, as the music keeps pumping throughout the night to keep you in the party mood. If you are into more of an alternative rock scene, Lee's Palace on Bloor St. is the perfect place to hang out and relax after watching the Maple Leafs go toe-to-toe with one of their NHL opponents.
The best sports bar in North America, as declared by ESPN, is Real Sports Bar and Grill and it's located across the street from the Air Canada Centre. With a two story HD flat screen, Real Sports boasts the largest indoor HDTV in North America. The food is excellent and the atmosphere unlike anything you have ever seen. If you're looking for a few local brew houses to begin the pregame libations, we suggest The Loose Moose near the ACC or if you want to head into Old Town area along Front Street, plan to stop in at Flatiron & Firkin, The Jersey Giant, Scotland Yard Pub, or Fionn MacCool's Irish Pub. For more information on local area pubs, be sure to check out my
Toronto Raptors Review
.
No trip to Toronto and Air Canada Centre would be complete without taking in the many attractions that the city of Toronto offers to its visitors. The Toronto Zoo is Canada's largest zoo, and it holds more than 5,000 animals that you can observe and learn more about. There is also the CN Tower, which is the tallest free-standing building in the Western Hemisphere. With an outstanding view of the city of Toronto and its own restaurant on location, the CN Tower offers a real treat for Toronto visitors. You could also visit Harbourfront Centre, which is located right on Lake Ontario. With various activities to participate in throughout the day and evening, Harbourfront can provide many hours of entertainment and enjoyment.
Even though there have been some struggles in recent years by the Maple Leafs franchise, they are starting to get everything turned around to become a competitor again in the NHL's Western Conference. Just like the Maple Leafs organization, Air Canada Centre is both young and exciting. The city of Toronto is very supportive of their hockey team, and you would be remiss if you did not join them to watch their beloved Maple Leafs play a game at Air Canada Centre.
For more information on the city of Toronto, Ontario check out my other reviews by clicking on the link below:
NHL: March 19, 2011 - Boston Bruins vs. Toronto Maple Leafs
NBA: March 18, 2011 - Washington Wizards vs. Toronto Raptors
NBA: Toronto Raptors, Air Canada Centre - General Information
Top Tourist Attractions:
CN Tower
,
Toronto Eaton Centre
, Nathan Phillips Square
Hockey Hall of Fame
, Casa Loma,
Harbourfront
Local Foods:

Poutine (French fries covered in cheese curds & gravy)
Toronto Sausage Vendors "Street Meat" (accented w/ variety
of toppings)


Popular Bar Districts:

Near ACC (Real Sports Bar & Grille, Hoops Sports Bar & Grille,
The Loose Moose)
Old Town (Flatiron & Firkin, The Jersey Giant, Scotland Yard
Pub, Fionn MacCool's Irish Pub)
Richmond Street (
Club Cayo Coco
, Lot 332, Circa,

This is London
,
Runway 224
, Frequency)
Adelaide Street (
Courthouse
,
Bar 244
,
Crocodile Rock
)

Yorkville (
Club V
,
Babaluu
,
Lobby Night Club
)

Alleycatz Live Jazz Bar
- located on Youngs Street


Best Restaurants:
360 Restaurant
- located top of the CN Tower (Fine dining)
Harbour Sixty Steakhouse
Harbour Sports Grille (waterfront sports bar)
Wayne Gretzky's Restaurant (sports bar)

Gabby's
(Pub Grub)
Fan
Resources:
Pocket Map of Toronto
Metro Rail Map (Subway/RT)
Local Sports Media:
Toronto Star
FAN 590
Where To Stay:
The Air Canada Centre is located in the heart of downtown Toronto. If you're going to a Toronto Maple Leafs game, you'll want to take full advantage of everything the international metropolis of downtown Toronto has to offer. With its theatre districts and world class dining, plan to stay downtown. I recommend the Fairmont Royal York or the Intercontinental Toronto Centre.
Getting to the Arena:
The Air Canada Centre is located in downtown Toronto with plenty of parking available. However, Toronto is notorious for its horrible traffic. Be sure to leave early if you're driving downtown for a game. You're best bet is to stay in the downtown area and take the subway. To get to the Air Canada Centre, take the Yellow Line (Yonge-University-Spedina) to Union Station which lets you off at a tunnel leading directly into the Air Canada Centre.
Planning Your Next Trip to see the Toronto Maple Leafs at the Air Canada Centre?
I've set up this website to help others that are interested in NHL Travel. Below you'll find links for cheap Toronto Maple Leafs tickets, arena seating charts, local weather, restaurants and hotels ... everything you need to plan a successful trip to the Air Canada Centre.
Compare Prices for
Toronto Maple Leafs Hockey
Tickets Here:

Click on the following links for Toronto Maple Leafs ticket availability at each of the top online ticket brokers on the web. Try each link to find the cheapest NHL ticket prices:

Toronto Maple Leafs Game Schedule
TicketCity.com
StubHub.com
TicketNetwork.com
RazorGator.com
VividSeats.com