Sunrise, Florida is home to the Florida Panthers hockey organization as well as one of the NHL's most inviting arenas. The BankAtlantic Center in Broward County serves at the central hub for everything that is Panthers hockey. The arena itself has been in use since 1998, and it continues to exude a sense of class and luxury that you don't find in just any sports arena. With palm trees and plenty of sunshine surrounding the building, the BankAtlantic Center is a great venue to watch some professional hockey.
I-75 is just one of the freeways that you can utilize to get to the BankAtlantic Center. If you're coming into town from Ft. Lauderdale, I-75 will put you in the best location to find your way to the building. I-595, is going to be your route of choice if you are coming from the east or west. I-595 will take you right to Sunrise Boulevard, which is a direct path to Panther Parkway and the arena. Parking is a fairly easy proposition at the BankAtlantic Center, and the best part is that the price of parking is automatically included in the ticket. Therefore, you don't have to worry about any extra parking charges or having to walk a mile from your car to the arena.
The real treat of this structure, though, is found once you step inside the building. Walking into the beautiful atrium, you will see escalators and glass elevators that are ready to take you to the upper levels of the arena. Each level has its own food court, which has all of your ballpark favorites like hamburgers, pizza, and hot dogs. The concourses have plenty of space for ticket holders to walk around without having to worry about bumping into other people. The bowl of the arena is absolutely beautiful with plenty of dot matrix scoreboards lining the perimeter of the arena along with an eight-sided scoreboard with video displays hanging from the ceiling.
If you would like dining options beyond the food court, there are a couple of restaurants on the Lexus Suite Level that have excellent cuisine and great drink options. The BankAtlantic Chairman's Club offers a full-service bar along with an extensive buffet that covers most everyone's tastes. The Chairman's Club is a great place to go if you are looking for a way to socialize with others before the game begins. The Patron Tequila Platinum Clubs is another great restaurant that offers sandwiches and pizza to its customers while also offering them many different drink options from the full bar inside the restaurant.
Want to explore what other options are available as far as restaurants are concerned? There are many different offerings that are available, which give you a good meal while also putting you in great proximity to the BankAtlantic Center. On Sawgrass Mills Circle is a restaurant known as Bahama Breeze. What you will find here is a great mixture of American and Caribbean food offerings that will leave everyone feeling satisfied. With very reasonable prices, Bahama Breeze is a great option if you are looking for a little atmosphere with your meal. Also on Sawgrass Mills Circle is Villagio Restaurant, which offers traditional Italian food including pizza and pasta dishes. Villagio provides with great portion sizes, and it is just a short drive away from the BankAtlantic Center.
The city of Sunrise is not the biggest town that you will find in the state of Florida, so there are a few local towns that you will want to explore on your trip to a Florida Panthers game this winter. If it is nightclubs that you are looking for, this part of Florida has great options for anyone looking to get out and socialize with locals and visitors alike. If you are in the Ft. Lauderdale area, you have to visit Christopher's, which offers dancing, drinks, and dinner for a great price. South Florida is known for its nightlife, and Christopher's provides its customers with the right atmosphere to have a good time. You'll also want to check out America's Backyard, which is located right on the waterfront in Ft. Lauderdale. This is a great bar that offers you the opportunity to just sit back and relax or dance the night away. With great music and even better people, America's Backyard is the quintessential South Florida nightspot.
Ft. Lauderdale also hosts The Museum of Science and Discovery. Taking you through different generations of technology and innovation, The Museum of Science and Discovery offers its visitors the chance to have a learning experience while also having a great time in the process. In nearby Pompano Beach, you will want to stop into the world's largest indoor flea market, the Festival Flea Market Mall. With stores that have items from around the world, the Festival Flea Market Mall is a must-see location when you are in town to watch a Florida Panthers game.
The BankAtlantic Center continues to set the standard for its beauty and structural makeup. The architects of this building should be very proud of the work they have, as should the management team for the Florida Panthers. This is a team that is building its way back to the top of the Eastern Conference standings and will be a force to be reckoned with very soon in the NHL. If you're looking for a reason to take a vacation this summer, consider coming to South Florida to see the Florida Panthers play a home game in the BankAtlantic Center.
Top Tourist Attractions:
South Beach (Beaches during the day, Clubs at night) Everglades Tour on an Airboat
Key West
Local Foods:
Cuban cuisine, Alligator meat, Frog legs
What They're Drinkin':
Fan Resources:
Pocket Map of Miami
Arena Policy
Arena Parking Map
Local Sports Media:
The Sun-Sentinel
The Miami Herald
Popular Bar Districts:
South Beach (Purdy Lounge, BED, Cameo, Jazid, Dream,
Fat Tuesday, Mango's Tropical Cafe)
Downtown (Space, PS 14, White Room, Parkwest Nightclub,
Nocturnal)

Best Restaurants:
Perricone's Marketplace (Italian)
Capital Grille (Steakhouse)
Azul (romantic)

Where To Stay:
If you're visiting from out of town, you want to get a hotel in South Beach. We suggest the Harbor Inn, the Caribbean Court or the Holiday Inn Vero Beach. The Miami Beach Mondrian and Gansevoort South are other great options for bar hoppers and clubbers.
Planning Your Next Trip to see the Florida Panthers at BankAtlantic Center?
I've set up this website to help others that are interested in NHL Travel. Below you'll find links for cheap Florida Panthers tickets, arena seating charts, local weather, restaurants and hotels ... everything you need to plan a successful trip to BankAtlantic Center.
Compare Prices for
Florida Panthers Hockey
Tickets Here:

Click on the following links for Florida Panthers ticket availability at each of the top online ticket brokers on the web. Try each link to find the cheapest NHL ticket prices:

Florida Panthers Game Schedule
TicketCity.com
StubHub.com
TicketNetwork.com
RazorGator.com
VividSeats.com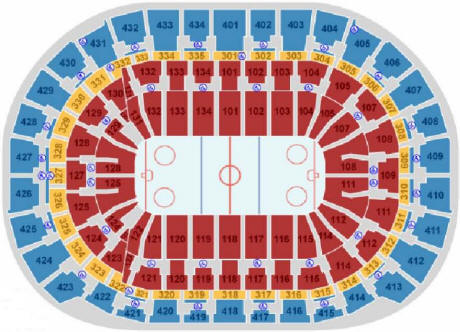 Buy Prepaid Parking for Florida Panthers Games Here: