Opened: September 21, 1996
Capacity: 18,690 seats
Mascot: Sabretooth
Team Chant: Let's Go BUF-FA-LO!
Draft Beer: $6.00
Hot Dog: $3.75


Arena Parking: $10 - $20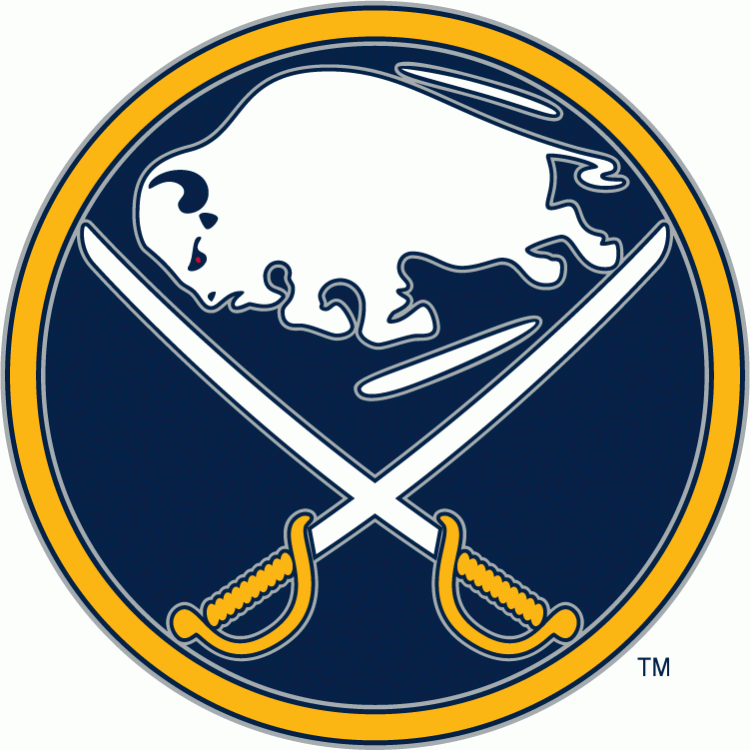 First Niagara Center
Address

One Seymour H. Knox III Plaza
Buffalo, NY 14203-3096
716-855-4100
Get Directions
Located in the Buffalo neighborhood known as "Canalside," First Niagara Center has become the epitome of what a hockey arena should look like in the NHL. From the acoustic mastery that creates a true home-ice advantage to all of the great amenities that the building offers, First Niagara Center proves how special human ingenuity and innovation can be. Buffalo has always been known as a quaint town that prides itself on its blue-collar work ethic. This hard work and dedication is no doubt a staple of the Buffalo Sabres organization, as they continue to build a team that can legitimately compete for a Stanley Cup every season.
Gaining access to the arena couldn't be easier, as those in charge of constructing the building obviously had the common fan in mind when they were laying out their plans for the building's location. Coming in off I-190 is very simple, as there are numerous signs located throughout the area that will guide you right to First Niagara Center. There is a parking ramp located adjacent to the arena, but that is for pre-paid customers only. If you don't mind a little walk, there are cheap parking lots that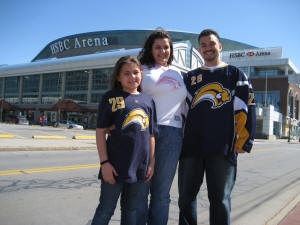 are within walking distance to First Niagara Center. If you are located in town and need public transportation, the Metro Rail can take you from the downtown area to directly in front of the building without any trouble. This will ensure that you are able to make it to the game in plenty of time for the opening face-off.
Once you are inside the arena, this is where the fun really begins. Food and beverages are aplenty, and you can find famous Buffalo favorites like wings as well as meat carving stations located throughout First Niagara Center. The traditional ballpark fare is also available at one of the many concession stands strategically positioned around the concourse level. Pour Man's Aud Club is the on-site restaurant that can provide you with many different choices as far as food and drinks are concerned. You will most assuredly enjoy the atmosphere, as there are many Sabres fans that are more than willing to socialize with you over your favorite beverage.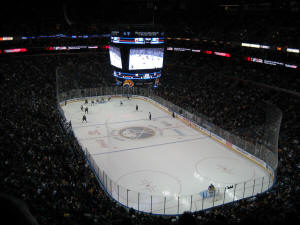 If you would rather visit a local restaurant instead of eating at the arena, there are plenty of options available right in the general vicinity of First Niagara Center. With over four floors of available eating space,
Pearl Street Grill & Brewery
is a great place to feed your hunger before or after a Sabres game. They have a special $15 all-you-can-eat buffet before each Sabres home contest, so make sure you take advantage of this tremendous offer.
Benchwarmers Sports Bar and Grille
is one of the best places to visit if you are looking for traditional American food that is served in a great atmosphere. With many flat-screen televisions located throughout the establishment, Benchwarmers allows you to have an enjoyable meal in the company of Buffalo's sports fans. More of a fine dining experience can be enjoyed at
E.B. Green's Steakhouse
on Fountain Plaza. With some of the finest beef that you have ever tasted, E.B. Green's is one restaurant that you can't afford to miss while you are in Buffalo. When you're in Buffalo, you have to indulge yourself in their famous Buffalo chicken wings. You would be doing yourself a favor to stop by the
Anchor Bar
as well as
Duff's
. The Anchor Bar is the originator of the Buffalo chicken wing, which dates back forty years, that have become so popular all over America. Duff's is a restaurant known for serving some of the hottest Buffalo chicken wings in the entire city. With many different flavors to choose from, there is a sauce that everyone will be able to enjoy.
After the Sabres game is over, there is plenty of nightlife in the city of Buffalo that you most assuredly want to take advantage of. One of the best nightclubs in the city is called
Social Bar & Nightclub
. Members of the Sabres roster have been known to show up at this location frequently, and the drink specials will make sure that you have a good time throughout the night without having to pay outrageous prices. West Chippewa St. also holds another gem of a nightly hot spot known as
Soho Bar
. With live music and dancing to the wee hours of the morning, Soho serves a wide range of Buffalo residents and visitors.
While you are in Buffalo, don't miss the chance to go to the Buffalo Zoo, which is the third oldest zoo in the United States. Opening in 1875, the Buffalo Zoo has been entertaining kids and adults alike since its inception. It is the second largest attraction in Western New York behind only Niagara Falls. Another interesting Buffalo point of interest that you don't want to miss out on is Lafayette Square located in downtown Buffalo. With a Civil War monument on location and plenty of other sights for you to see, Lafayette Square is one of those locations that makes you appreciate the history and culture of the Buffalo community.
First Niagara Center is known for having some of the friendliest and well-mannered fans in the entire National Hockey League, which creates an excellent family-friendly environment that everyone can enjoy. The proximity of Buffalo to Canada only adds to the mystique that this hockey town can offer to both season ticket holders and visitors alike. There are few places that can offer the same type of gameday experience as First Niagara Center and the Buffalo Sabres can. On your Frozen Pond Pilgrimage, make sure you allot yourself plenty of time to enjoy everything that the Buffalo hockey scene has to offer.
For more information on the city of Buffalo, NY check out my other review by clicking on the link below:
NHL: March 12, 2010 - Minnesota Wild vs. Buffalo Sabres
Top Tourist Attractions:
Niagara Falls - Maid of the Mist Boat Tour
Anchor Bar - Originator of the Buffalo Chicken Wing
Local Foods:
Buffalo Chicken Wings
Kimmelweck "Beef on Weck"
LaNova White Pizza
What They're Drinkin':
Labatt's Blue, Molson Canadian, Yeungling
Fan Resources:
Pocket Map of Buffalo
Arena Policy
Arena Parking Map
Fan Forum:
Local Sports Media:
The Buffalo News
WGR 550AM
Popular Bar Districts:
Chippewa Street (SoHo, Papaya, Pure, Omega Lounge, Bayou)
Elmwood Avenue (Mister Goodbar, Coles, Sahara Grill, JP
Bullfeathers)
Delaware Avenue (Nektar, Toro, Fahertys, The Thirsty Buffalo,
Snooty Fox, Stillwater)
Hertel Avenue (Fiamma, Shadow Lounge)

Best Restaurants:
Anchor Bar (Originator of the Buffalo Chicken Wing)
Pearl Street Grill
Buffalo Chophouse (Steak)
Tandoori (Indian Cuisine)
Kentucky Gregs (BBQ)
800 Maple (Brick Oven Pizza, Martinis)
Papaya and Seabar (Sushi)
Northend Trattoria, Romeo and Juliet's (Italian Cuisine)

Where to Stay:
I would suggest staying in a hotel in downtown Buffalo to take advantage of the nightlife. The best hotel is definitely the Hyatt Downtown, located a stone's throw from the Chippewa Street bar district. the Hampton Inn downtown and Adam's Mark are also good options.
Planning Your Next Trip to see the Buffalo Sabres at First Niagara Center?
I've set up this website to help others that are interested in NHL Travel. Below you'll find links for cheap Buffalo Sabres tickets, arena seating charts, local weather, restaurants and hotels ... everything you need to plan a successful trip to First Niagara Center.
Compare Prices for Buffalo Sabres Hockey Tickets Here:

Click on the following links for Buffalo Sabres ticket availability at each of the top online ticket brokers on the web. Try each link to find the cheapest NHL ticket prices:

Buffalo Sabres Game Schedule
TicketCity.com
StubHub.com
TicketNetwork.com
RazorGator.com
VividSeats.com