Opened: September 21, 1996
Capacity: 18,690 seats
Mascot: Sabretooth
Team Chant: Let's Go BUF-FA-LO!
Draft Beer: $6.00
Hot Dog: $3.75


Arena Parking: $10 - $20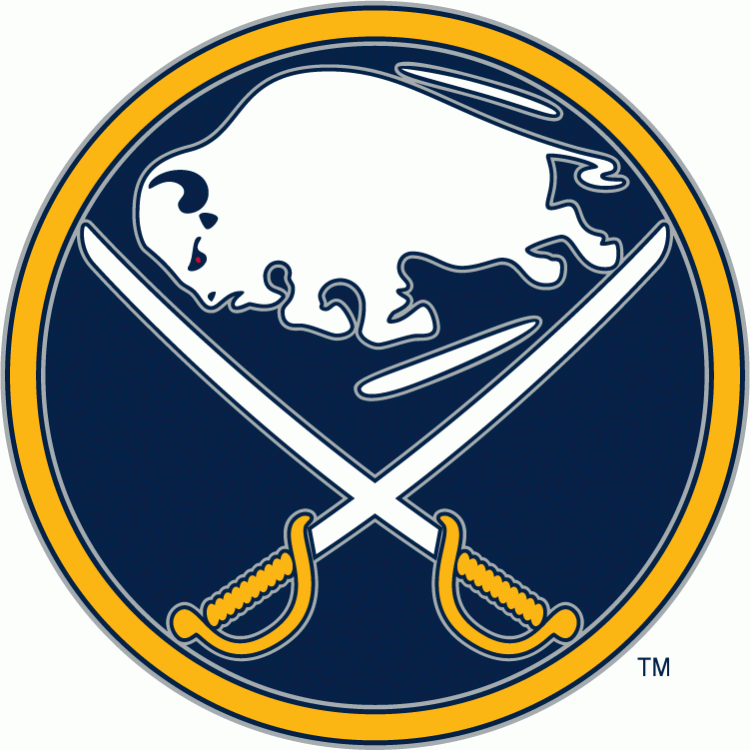 First Niagara Center
Address

One Seymour H. Knox III Plaza
Buffalo, NY 14203-3096
716-855-4100
Get Directions
The city of Buffalo, New York is a great blue-collar town with a solid tradition of die-hard support for their local franchises. Buffalonians are a resilient breed of sports fan that has seen its share of heartbreak when it comes to World Championships, but through these disappointments, a solid fanbase of unwavering supporters has been fortified continuing to press on. It is this group of fans that come out to First Niagara Center throughout the NHL season to watch their beloved Buffalo Sabres take to the ice in downtown Buffalo. The return of the Blue and Gold to prominence under head coach Lindy Ruff and superstar goaltender Ryan Miller means that this long suffering fanbase can finally breathe a sign of relief as the Sabres have shown they are relevant in the hunt for Lord Stanley's Cup.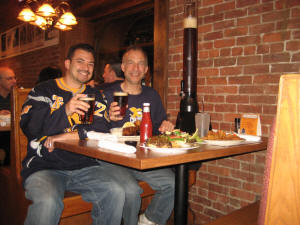 To kick off my First Niagara Center experience, I like to go to the
Pearl Street Grill & Brewery
before the game. Located just up the street from First Niagara Center and a short Metro ride away, this microbrewery offers some exceptional draft beer and great food. With a pregame buffet featuring local favorites before every home game and live music on the weekend, this is definitely the place to be before any Sabres game. I highly recommend the "widow maker," if you do find yourself at the Pearl Street Grill. It's a tube of your choice of draft beer served at your table with a tap on the side for dispensing. The widow maker holds 100 ounces of beer for a reasonable $24.50 that towers over your table as you slowly work your way to the bottom. Finishing this bad boy is truly an accomplishment.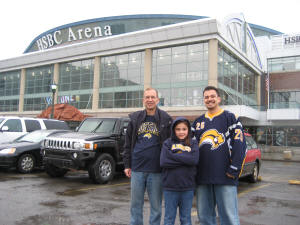 Proceeding back down Main Street, this time a bit more lubricated than before, I was in town for the Buffalo Sabres game against the visiting Minnesota Wild at First Niagara Center. Built in 1996, First Niagara Center is still an impressive looking facility. With a space aged, domed exterior, the equally modern appearance of the arena's interior has a host of amenities to satisfy the cravings of even the most fickle of fans. As you walk into the main entrance, an impressive pro shop located on the ground floor has an incredible array of Buffalo Sabres franchise paraphernalia. I was most impressed by the fact that fans can actually purchase game used Buffalo Sabres player hockey sticks for a reasonable price. They're located fairly inconspicuously right by the door.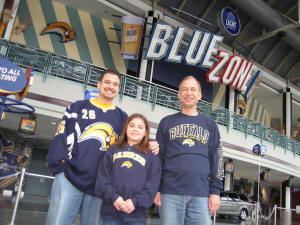 Buffalo, New York is home to the headquarters of Labbatt USA and the Labbatt's product line is well represented at First Niagara Center. Apart from the typical concession stands that carry Labatt's products on draft, fans will also find the Blue Zone, which is an open bar area that bears the Labbatt's name and is located on the mezzanine level overlooking the front atrium. The Blue Zone is a great place to meet up with friends and enjoy an ice cold beverage of choice prior to the start of the game. If you're looking for a quick bite to eat, First Niagara Center offers a solid selection of concessions including much of the standard fare. I was however impressed to note that Buffalo Sabres fans can also find the traditional Beef on Weck sandwich at the arena. This roast beef sandwich served on a Kimmelweck roll is a signature snack of the city of Buffalo (the red-headed step brother of the more popular Buffalo Wing). To find one, just look for signs for "The Carvery Beef on Weck" and prepare for a unique treat.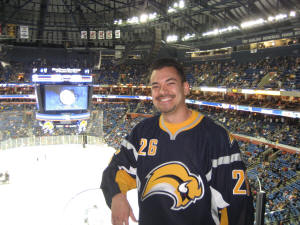 As the game got underway we headed to our seats to watch my hometown team. After an impressive start to the season, the Sabres were once again limping into the playoffs. I was hoping that a with a weaker opponent on the docket, that the Sabres could return to their winning ways and charge into the playoffs pulling together a string of wins. I was also hoping to see the great Ryan Miller between the pipes. Unfortunately for this SuperFan, neither of my hopes came to fruition. Backup netminder Patrick Lalime protected the crease, and the Buffalo Sabres fell short of the win I coveted with an uninspired performance leading to a 3-2 loss to the Minnesota Wild. It was very disappointing.
For more information on the city of Buffalo, NY check out my other review by clicking on the link below:
NHL: Buffalo Sabres, HSBC Arena - General Information
Top Tourist Attractions:
Niagara Falls - Maid of the Mist Boat Tour
Anchor Bar - Originator of the Buffalo Chicken Wing
Local Foods:
Buffalo Chicken Wings
Kimmelweck "Beef on Weck"
LaNova White Pizza
What They're Drinkin':
Labatt's Blue, Molson Canadian, Yeungling
Fan Resources:
Pocket Map of Buffalo
Arena Policy
Arena Parking Map
Fan Forum:
Local Sports Media:
The Buffalo News
WGR 550AM
Popular Bar Districts:
Chippewa Street (SoHo, Papaya, Pure, Omega Lounge, Bayou)
Elmwood Avenue (Mister Goodbar, Coles, Sahara Grill, JP
Bullfeathers)
Delaware Avenue (Nektar, Toro, Fahertys, The Thirsty Buffalo,
Snooty Fox, Stillwater)
Hertel Avenue (Fiamma, Shadow Lounge)

Best Restaurants:
Anchor Bar (Originator of the Buffalo Chicken Wing)
Pearl Street Grill
Buffalo Chophouse (Steak)
Tandoori (Indian Cuisine)
Kentucky Gregs (BBQ)
800 Maple (Brick Oven Pizza, Martinis)
Papaya and Seabar (Sushi)
Northend Trattoria, Romeo and Juliet's (Italian Cuisine)

Where to Stay:
I would suggest staying in a hotel in downtown Buffalo to take advantage of the nightlife. The best hotel is definitely the Hyatt Downtown, located a stone's throw from the Chippewa Street bar district. the Hampton Inn downtown and Adam's Mark are also good options.
Planning Your Next Trip to see the Buffalo Sabres at First Niagara Center?
I've set up this website to help others that are interested in NHL Travel. Below you'll find links for cheap Buffalo Sabres tickets, arena seating charts, local weather, restaurants and hotels ... everything you need to plan a successful trip to First Niagara Center.
Compare Prices for Buffalo Sabres Hockey Tickets Here:

Click on the following links for Buffalo Sabres ticket availability at each of the top online ticket brokers on the web. Try each link to find the cheapest NHL ticket prices:

Buffalo Sabres Game Schedule
TicketCity.com
StubHub.com
TicketNetwork.com
RazorGator.com
VividSeats.com